Celeste Watkins-Hayes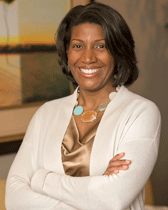 Associate Vice President, Office for Research
Professor of African American Studies and Sociology
Weinberg College of Arts & Sciences
Celeste Watkins-Hayes received her Ph.D. in Sociology from Harvard University in June 2003. She also holds an M.A. in Sociology from Harvard and a B.A. from Spelman College, where she graduated summa cum laude in 1996. Celeste is Professor of Sociology and African American Studies at Northwestern University and former Chair of the Department of African American Studies. In addition to her faculty appointments, Watkins-Hayes is a Faculty Fellow at Northwestern's Institute for Policy Research and Cells to Society (C2S): The Center on Social Disparities and Health.
Watkins-Hayes has published numerous articles in the areas of sociology, African American Studies, and public policy studies. Her book, The New Welfare Bureaucrats: Entanglements of Race, Class, and Policy Reform (University of Chicago Press, 2009) is an examination of how welfare officers navigate the increasingly tangled political and emotional terrain of their jobs. The book was a finalist for the 2009 C. Wright Mills Book Award from the Society for the Study of Social Problems and the 2011 Max Weber Book Award from the American Sociological Association.
Dr. Watkins-Hayes is also principal investigator of The Health, Hardship and Renewal Study, which explores the economic and social survival strategies of women living with HIV/AIDS in the Chicago area. Results from that study will be presented in the book, Remaking a Life, Reversing an Epidemic: HIV/AIDS and the Politics of Transformation (under contract at the University of California Press). In 2009, she received a Robert Wood Johnson Foundation Health Investigator Award and a National Science Foundation Early CAREER Award to conduct this research.
Watkins-Hayes has published numerous articles in journals and edited volumes including, The Annual Review of Sociology, Social Problems, and The DuBois Review. She currently serves on the Board of Trustees of Spelman College and the Board of Director of the Detroit Institute of Arts. Dr. Watkins-Hayes has been profiled in ESSENCE, USA Today Weekend, Chicago Magazine, and the Chicago Sun-Times.