Kristin Rae Swanson, PhD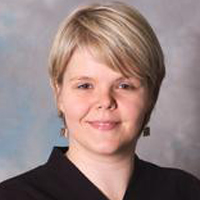 Professor, Neurological Surgery, Feinberg School of Medicine
Professor, Engineering Sciences and Applied Mathematics, McCormick School of Engineering and Applied Science
Professor, Radiology, Feinberg School of Medicine
Kristin Rae Swanson, PhD, is a Professor and Vice Chair of Research in Neurological Surgery, Professor of Radiology and Professor of Engineering Sciences and Applied Mathematics at Northwestern University.
Dr. Swanson received her BS in Mathematics in 1996 from Tulane University followed by her MS (1998) and PhD (1999) in Mathematical Biology from the University of Washington. Following a post-doctoral fellowship at UCSF, she joined the faculty at the University of Washington in 2000, with appointments in both Neuropathology and Applied Mathematics. In 2012, she moved her group to Northwestern University to join the Northwestern Brain Tumor Institute.
Dr. Swanson's research lab has served to pioneer the burgeoning field of Mathematical Neuro-oncology generating excellent data to support the practical application of patient-specific bio-mathematical models of glioma to assessing, predicting and optimizing treatment. Her research efforts have been supported through continuous funding by the NIH, numerous foundations, the James D. Murray Endowed Chair at the University of Washington, the Zell Scholars Fund, the Wirtz Family Innovation Fund and the Northwestern Brain Tumor Institute.
While her research interests include Cancer Biology, Cancer: Brain and Nervous System, Medical Informatics, Neuro-Oncology, Oncology, Quantitative MRI, Radiation Oncology and Radiology, her current research aims to predict patient-specific tumor growth, seek patient-specific markers of tumor progression and identify predictors of response to therapy in individual tumor patients. Her research has been featured in numerous articles, including Forbes in 2008 and in a recent TEDx talk.