Michael H. Schill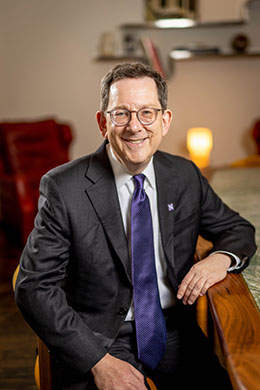 President, Northwestern University
Michael H. Schill took office as Northwestern's 17th president on Sept. 12, 2022. He also serves as a professor in the Northwestern Pritzker School of Law.
He previously spent seven years as president of the University of Oregon (UO), where he raised the university's profile in teaching, research, innovation, student access and diversity. Under Schill's leadership, UO built the Phil and Penny Knight Campus for Accelerating Scientific Impact, increased its four-year graduation rates by 10 percentage points and launched the Ballmer Institute for Children's Behavioral Health in a new campus in Northeast Portland. Schill also led the extension and historic close of the university's fundraising campaign in 2021, which exceeded its goal with $3.2 billion total raised.
Schill is a nationally recognized expert in property, real estate and housing law and policy. He is the author or co-author of three books and more than 40 scholarly articles. His work includes studies of the determinants of value in condominium and cooperative housing, the impacts of housing programs on property values, the enforcement of Fair Housing laws, mortgage securitization and the effects of housing market regulation. His casebook, "Property," co-authored with James Krier and Greg Alexander, is one of the most widely adopted casebooks in American law schools.
He served as dean and professor at the law schools of the University of Chicago and UCLA, and also held tenured faculty positions at New York University and the University of Pennsylvania.
In 2004, Schill founded NYU's Furman Center for Real Estate and Urban Policy, which has become one of the nation's leading research centers on housing and the built environment.
He has served on several nonprofit boards and civic bodies, including Argonne National Laboratory, ITHAKA, the Chicago Innovation Exchange, and the Housing Preservation Compact of Chicago.
Before beginning his career as a professor, Schill served as law clerk to the Honorable Marvin Katz of the Eastern District of Pennsylvania and was a real estate attorney at the New York City law firm of Fried, Frank, Harris, Shriver and Jacobson.
Schill graduated in 1980 with an AB in Public Policy from Princeton University and a JD from the Yale Law School.