Caralynn Nowinski, M.D.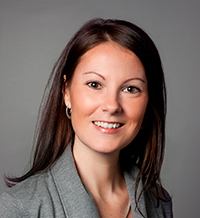 Executive Director & Chief Operating Officer, UI LABS
Caralynn Nowinski, M.D., serves as the Executive Director and Chief Operating Officer of UI LABS, a Chicago-based research and commercialization collaborative bringing industry, academia, and government together to apply real solutions to tomorrow's most important business, economic, and cultural challenges. Drawing from her past experiences as an entrepreneur, physician, and venture capitalist, Caralynn offers a unique perspective to UI LABS' efforts to foster innovation, encourage collaboration, and drive economic growth and competitiveness.
In February 2014, UI LABS announced the formation of its first collaborative program, the Digital Manufacturing & Design Innovation Institute (DMDII), a $320-million collaboration among the Department of Defense, 40+ industry partners, 24 academic institutions, multiple states and cities, and a number of local community organizations, to advance applied research, technology commercialization, and workforce development in advanced manufacturing.
Prior to UI LABS, Caralynn was Associate Vice President for Innovation & Economic Development at the University of Illinois. In that role, she promoted strategic relationships between the university community and external stakeholders to foster technology commercialization, talent development and retention, and overall economic impact.
Caralynn spent her early career in venture capital and corporate finance, primarily focused on technology-based university spin-outs. She was a Principal with early-stage venture capital firms ARCH Development Partners and Midwest Venture Partners, and Senior Vice President of Sikich Investment Banking. As a graduate student, she co-founded SanoGene Therapeutics, an early-stage biotechnology company, where, as CEO, she led the company's spin-out from the University of Illinois and raised a strategic equity investment.
Caralynn is a Governor-appointed member of the Illinois Innovation Council and currently serves as a member of Mayor Emanuel's ChicagoNEXT Council on Innovation and Technology. Among her honors, she was named to the Crain's Chicago Business 2008 "Forty Under Forty" List and is a member of the Chicago Council on Global Affairs Emerging Leaders Class of 2014. She is a frequent guest speaker on technology entrepreneurship and early stage investment.
Caralynn volunteers her time as the Vice President of the Neuropsychology C.H.I.L.D. Foundation and Board Member of Imerman Angels.
Caralynn graduated as a James Scholar at the University of Illinois College of Medicine (M.D.) and as a Liautaud Scholar at the UIC Liautaud Graduate School of Business (M.B.A.). She earned a B.S. with departmental honors in Communication Sciences & Disorders from Northwestern University.