Milan Mrksich, PhD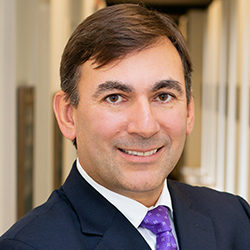 NU Vice President for Research
Henry Wade Rogers Professor of Biomedical Engineering
Professor of Chemistry
Professor of Cell and Developmental Biology
Founding Director NU Center for Synthetic Biology
Associate Director of the Robert H. Lurie Comprehensive Cancer Center,
Milan Mrksich  is a scientist, entrepreneur, and administrator named NU Interim Vice President for Research on October 1, 2019 assumed the permanent role on May 14, 2020. A nationally known
multidisciplinary investigator, Dr. Mrksich is the Henry Wade Rogers Professor with appointments in the Departments of Biomedical Engineering, Chemistry, and Cell and Developmental Biology.
Dr. Mrksich also was Founding Director of Northwestern's Center for Synthetic Biology and is an Associate Director of the Robert H. Lurie Comprehensive Cancer Center, where his focus included
strengthening state-of-the-art instrumentation and techniques.
Most notably, he developed the SAMDI biochip technology which increases the pace of experiments allowing enzymes to be tested at a rate of a hundred thousand per day, a breakthrough that has become
the leading 'label-free' technology in drug discovery and has addressed a pressing need in early-stage drug development. His research has been described in approximately 200 publications and 500 invited
talks. Dr. Mrksich is a Founder of Lyra Therapeutics, which developed stents for the treatment of small vessels in ear, nose, throat diseases.
Dr. Mrksich is an award-winning leader in the science and engineering of developing surface chemistries for life science applications. His laboratory has pioneered several technologies, including strategies to
integrate living cells with microelectronic devices; methods to enable high throughput assays for drug discovery; and approaches to making synthetic proteins for therapeutic use.
In addition, Dr. Mrksich has served as an active adviser to government and industry: advisory groups to the US Department of Defense —Board of Governors for Argonne National Laboratory. He also has been
active as an entrepreneur. He is Founder and Director of SAMDI Tech, an Illinois-based contract research organization that has commercialized his high throughput assays for discovering drug leads that serve global pharmaceutical companies. He is a Founder of Lyra Therapeutics which develops stents for the treatment of small vessels in ear, nose and throat diseases.
As Vice President for Research, Dr. Mrksich and his senior staff direct a research infrastructure with $893.4 million in annual sponsored funding. This administrative support includes a host of compliance related expertise as well as management of animal care, laboratory safety, research IT, core facilities, and 40 interdisciplinary University Research Institutes and Centers. Dr. Mrksich also leads the
development and implementation of University-wide strategic plans that support high-impact research efforts.
Dr. Mrksich holds a bachelor's degree in chemistry from the University of Illinois and a doctorate in chemistry from Caltech. He has served as an American Cancer Society Postdoctoral Fellow at Harvard
University before joining the faculty at the University of Chicago in 1996. He joined Northwestern in 2011. His many honors include the Camille Dreyfus Teacher-Scholar Award, the TR100 Innovator
Award, Arthur C. Cope Scholar Award, Pittsburgh Analytical Chemistry Award, election to the American Institute for Medical and Biological Engineering, and the Illinois Bio ICON Innovator Awardee.