Daniel Brat, MD, PhD, chair of Pathology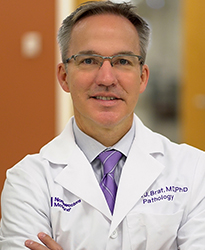 Magerstadt Professor of Pathology
Northwestern Medicine
Feinberg School of Medicine
Daniel Brat, MD, PhD, serves as chair and Magerstadt Professor of Pathology. A neuropathologist and scientist, Brat has spent nearly two decades studying diffuse gliomas — the most common type of brain tumor — and the mechanisms that drive their progression. His basic and translational research has led to a number of breakthrough findings, including the identification of a novel way of classifying gliomas based on their genetic makeup, published in the New England Journal of Medicine in 2015. 
Brat, who joined Northwestern Medicine in September 2017, is also a member of the Robert H. Lurie Comprehensive Cancer Center of Northwestern University.
Listen to Brat talk about his findings in the most recent episode of the Breakthroughs podcast.