Thomas Bradshaw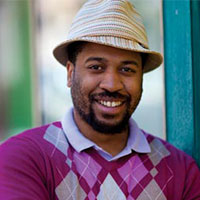 Assistant Professor, School of Communication
Thomas Bradshaw has received commissions from The Whitney Museum, Soho Theatre (London),The Goodman Theater, Soho Repertory Theater (New York), The Flea Theater, Theater Bielefeld (Germany), and Partial Comfort Productions. He is currently working on commissions from the Goodman Theater, Manhattan Theater Club, and the Foundry Theater as well as developing a TV series for HARPO(Oprah Winfrey) and HBO. He is also creating a Television series for the FX network with Brad Pitt's Plan B serving as Producer. He is the recipient of a 2009 Guggenheim Fellowship, the 2010 Prince Charitable Trust Prize, and the 2012 Award from the Foundation for Contemporary Arts.
Thomas Bradshaw's plays have been produced at regional theaters in NYC as as well as in Europe. In 2013 he presented his show Lecture on the Blues at The Whitney Museum. In 2012, the Flea Theater successfully produced his play Job and in 2011, his play Burning ran to rave reviews at the New Group/NYC and the Goodman Theater produced his play Mary, which they had previously commissioned. His play The Bereaved, produced by Partial Comfort, was named one of the Best Plays of 2009 in Time Out New York and was a New York Times Critic's Pick. The Bereaved was subsequently produced at The State Theater Of Bielefeld in Germany and presented in Berlin. In 2008, two of his plays premiered in NYC: Southern Promises, at Performance Space 122 in September, and Dawn, at The Flea Theater in November, and both were listed among the Best Performances of Stage and Screen for 2008 in The New Yorker. His plays Purity, Prophet and Strom Thurmond is Not a Racist and Cleansed were produced in NYC. A German translation of Dawn was presented at Theater Bielefeld in Germany in October 2008 and published by Theater Der Zeit in that same month.
Mr. Bradshaw received his M.F.A. from Mac Wellman's playwriting program and is an Assistant Professor at Northwestern University. He has been featured as one of Time Out New York's ten playwrights to watch, as one of Paper Magazine's Beautiful People, and Best Provocative Playwright by the Village Voice. He has received Fellowships from The Lark Play Development Center, Soho Rep. (Streslin Fellow), and New York Theater Workshop. He was the Playwright in Residence at The Soho Theatre in London in February 2009, where he wrote The Ashes.