David W. Baker, MD, MPH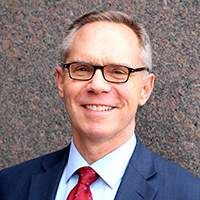 Michael A. Gertz Professor in Medicine, Feinberg School of Medicine
Chief, Division of General Internal Medicine and Geriatrics
Deputy Director, Institute for Public Health and Medicine
Dr. David W. Baker is the Michael A. Gertz Professor of Medicine, Chief of the Division of General Internal Medicine and Geriatrics, and Deputy Director of the Institute for Public Health and Medicine at the Feinberg School of Medicine, Northwestern University. He received his MD from the UCLA School of Medicine and his MPH from the UCLA School of Public Health.
Dr. Baker is internationally known for his research into health literacy and the consequences of inadequate health literacy. He led development of the Test of Functional Health Literacy in Adults, the most widely used measure of health literacy in published research studies, and he has studied the effect of health literacy on health behaviors, medication adherence, health care use, hospitalization, and mortality. His current work is developing health communication tools and methods to address low health literacy and conducting controlled trials to examine whether these improve outcomes. In addition, he has also conducted important studies examining racial and ethnic disparities, the impact of language barriers on health care, and differences in health outcomes for the uninsured. Dr. Baker is currently the Principal Investigator and Director for the Center for Advancing Equity in Clinical Preventive Services, a Center for Excellence funded by the Agency for Healthcare Research and Quality.
Along with his work in health literacy and disparities, Dr. Baker has conducted extensive research in quality of care. Since moving to Northwestern, his work has focused on the use of electronic health records for quality measurement and quality improvement. His team was the first to validate quality measures using electronic health record data (e-measures) for coronary artery disease and congestive heart failure, and he has examined e-measures for hypertension and hypercholesterolemia. He led a large demonstration project funded by the Agency for Healthcare Research and Quality to test strategies for improving quality of care using electronic health records. He is currently the principal investigator on a randomized controlled trial of using health information technology to improve colorectal cancer screening among patients in community health centers.
Dr. Baker has published over 200 original research articles and book chapters and he has won numerous awards, including the 2013 American College of Physicians' Alvan R. Feinstein Memorial Award.