Bruce Ankenman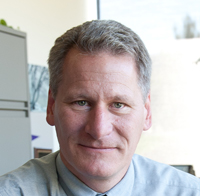 Associate Professor, Industrial Engineering and Management Sciences, McCormick School of Engineering and Applied Sciences
Bruce Ankenman is a Charles Deering McCormick Professor of Teaching Excellence at Northwestern University. He is an Associate Professor in the Department of Industrial Engineering and Management Sciences at Northwestern's McCormick School of Engineering and Applied Sciences. He received a BS in Electrical Engineering from Case Western Reserve University and after working in the automotive industry for five years, returned to graduate school for an MS and PhD in Industrial Engineering from the University of Wisconsin-Madison. His research interests primarily deal with the design and analysis of experiments that are used to build models for physical systems or metamodels for simulated systems. Professor Ankenman is the co-director of the Segal Design Institute and has been a faculty mentor for the Design for America program since its inception.
For the last eight years, he has been the co-director of Design Thinking and Communications (DTC), McCormick's innovative and highly acclaimed freshman design course. This course is a required two-quarter sequence for all engineering students, roughly 400 each year. Students work in teams of 4 to address the real need of a real client. They are taught the design process from background and end-user research, through brainstorming, concept selection, user testing, iterative redesign, design review, and ultimately building a working prototype and final presentation/report on their design and design process. This class replicates the environment of the typical engineering workplace where small teams of engineers work on products to meet customer needs. Each section is co-taught by one engineering instructor and one communications instructor. Engineering students at other universities often do not get this type of experience until they are thrown into a work environment at a co-op or internship or when they start their first job.
Some of the significant DTC developments that have occurred in the last eight years include a partnership with the Rehabilitation Institute of Chicago to complete hundreds of projects for people with disabilities. Some examples are devices to help people who have had strokes to be able to open a jar, cut vegetables, get dressed, or play the piano when they have limited or no mobility on one side of their body. They have also implemented an introduction and integration of engineering ethics into EDC to sensitize students to environmental, interpersonal, and safety issues.